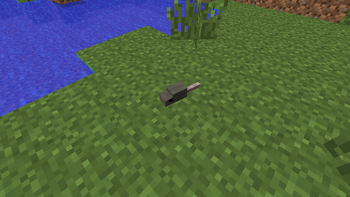 Mice are passive land mobs that spawn in the plains and forest biomes. They scurry around and squeak, adding a new feel to their respective biomes. Quite unfortunately, however, they are the prey of snakes.
Mice have 2 hearts, and will regularly scurry throughout the land. They will not react to the player at first, but when hit, they will panic for a while, similarly to farm animals. Their lack of reaction at first makes them an easy target for snakes.
Mice were added in version 0.5.5, along with lizards and snakes.
The mammalian mob that was released in 0.5.5 was supposed to be a bunny, but then it got changed into a mouse for the snakes to eat.
The mouse's model was created by Daveyx0.
Ad blocker interference detected!
Wikia is a free-to-use site that makes money from advertising. We have a modified experience for viewers using ad blockers

Wikia is not accessible if you've made further modifications. Remove the custom ad blocker rule(s) and the page will load as expected.